So the last time I was bugging Jaimie about a bra, I was inquiring about the SF Royal Blue. Jaimie followed up by sending me a picture of what Ewa was going to release in the new future. I saw the XOXO and decided to try that one instead of the Royal Blue, which I now regret because it's not visible on Ewa's site so I'm worried I missed out. The image was small so I thought that this was a pin-striped bra, not a polka dot bra. The XOXO is a very Victoria's Secret-esque style and is normally made in the M style which is for smaller busts. I had this special ordered as a PL since at the time the M cut did not come high enough.
This style has a corset-style gore with cord being the only kind of support there. It looks like the wires are attached at the top and that's the only support there. Because of this corset gore, it's a band-less style which is uncomfortable for me. There are frills on the top of the cups which I'm not a big fan of, but it wouldn't make or break the look of the bra for me. I find it's relatively true to size in the cups/wire length, but the band runs over one size tight. It only stretches to 27.5 inches and I couldn't do it up without 2 rows of an extender. The straps also seem longer/stretchier than usual but I have similar straps on bras that do fit better so I'm thinking the extender pushes the straps are far too wide for comfort. My colors are not true to size due to lack of sunlight-picture baby pink and black.
These are the photos with the pads. I'm not sure if it's this bra in particular but it looks like
a lot
of bra on me. Looking at my
PL Fairytale
photos however it looks like it covers the same. It's an odd, kind of lumpy shape that might be from the pads but it might be from the fabric. It was kind of wrinkly. There are the polka dots, black wire casings with the loop trim from the gore on them, black lacee on the top as well as frills.
Better view of the shape. It's not super rounded but it seems different to my other PLs. They're pointy as well, but it's a smoother pointy. For lack of a better word, this seems chunky.
So there's lace all around the band and the loopy trim follows all the way up the wires. I was too cold to take a picture of the back but it's bad-I can't even come close to doing it up.
Without the pads. Fit is similar-the shape is a little smother but still kind of funky/geometric.
Here is a closeup of the gore and wrinkly cup fabric. I do have the thong in a 38 but I forgot to take extra photos. I was freezing because my room isn't heated so I was in a hurry. I pulled the following two photos from
Ewa Michalak's website
. These colors are true to size.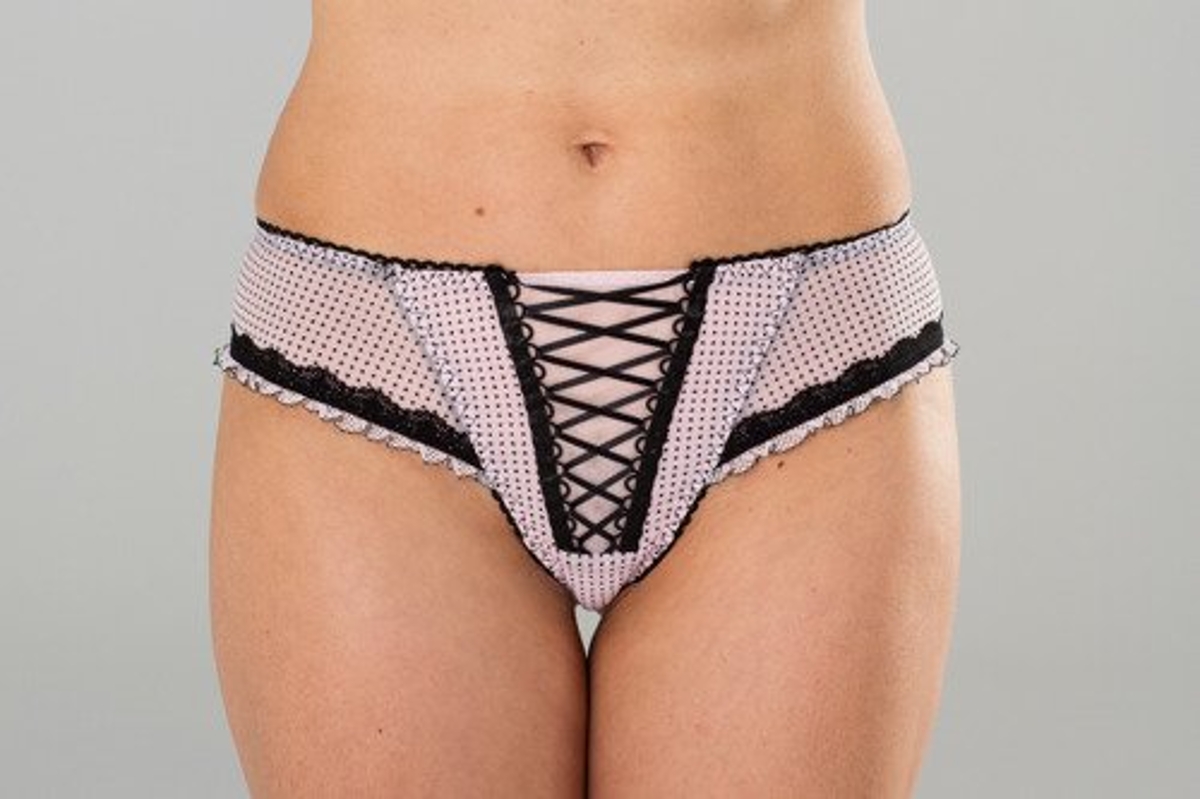 I haven't tried these on so I can't tell if they are true to size. This set is super cute, however not my style. I knew I was taking a risk ordering this style but I hoped I would fall in love. Unfortunately, that is not the case. I wish it was one solid color instead of the polka dots because that makes it too cutesy for me. I have decided to hopefully exchange this bra so I have reached out to Jaimie at Bra Obsessed to see how we can make it so.